Four years ago, we began to hear the same question from a number of food companies that wanted to do more for pollinators: Could Xerces develop a certification program to verify pollinator conservation practices on farms and provide a transparent way for consumers to recognize and differentiate food products produced in ways that are better for bees?
There was lots of interest and excitement about this at Xerces, but there was also a lot of work to figure out whether this would truly work. As a first step, we wanted to evaluate what meaningful pollinator protection on farms would mean:
– How much habitat is needed to be truly meaningful for pollinators on farms?
– Could we have both permanent habitat and ephemeral habitat, like cover crops?
– What would farmers need to do to protect habitat from pesticides and what kinds of measurable pesticide reductions should we call for?
– How could we make this both high quality and allow some flexibility for farmers?
– Could we design a science-based program that would work for almonds, blueberries, apples, grapes, or virtually any plant-based farm system?
– Finally, what should we call this certification system to reflect our goal of trying to create better places for bees?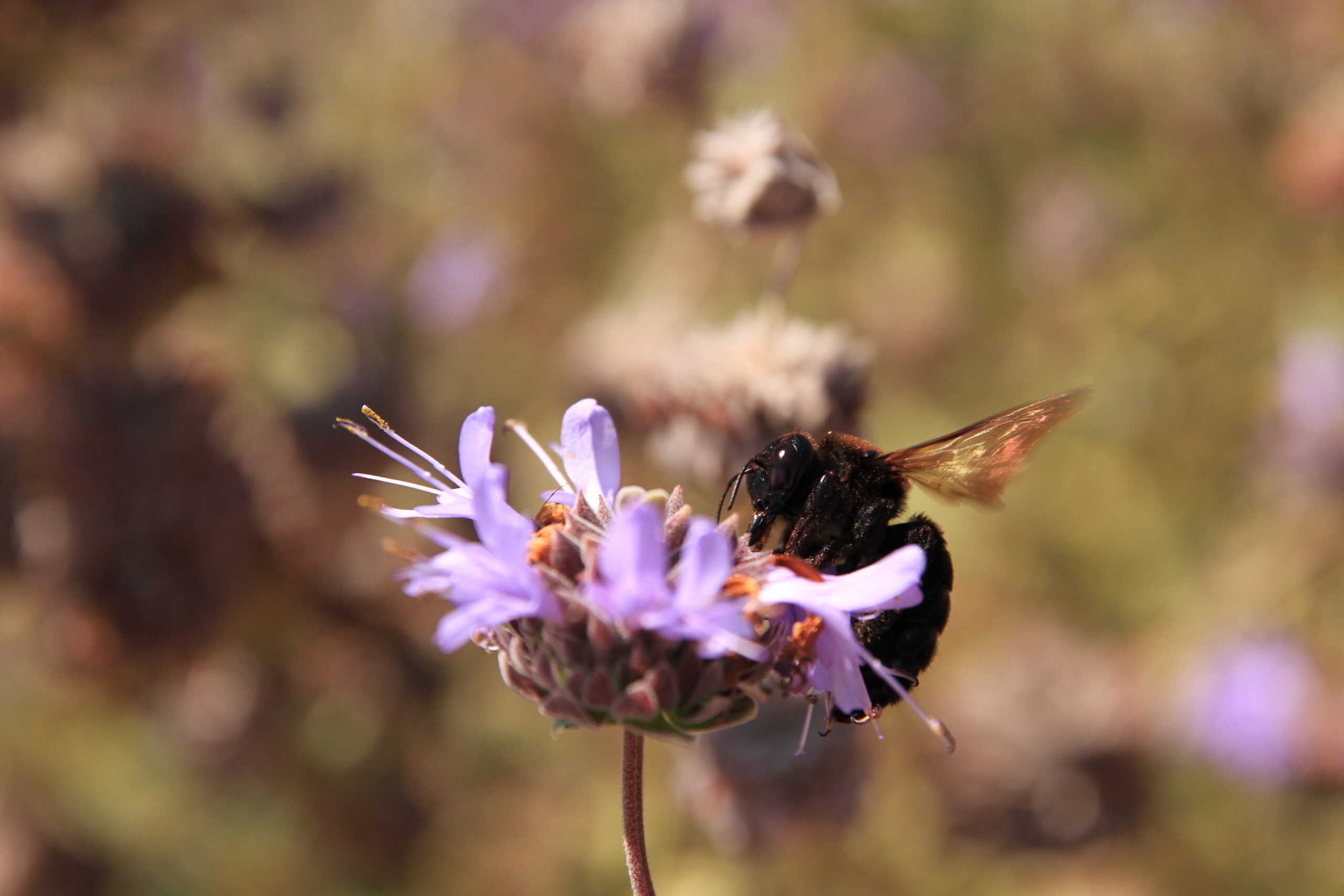 A California carpenter bee (Xylocopa californica) foraging on Cleveland sage. Permanent, high-quality habitat protected from pesticides is a key requirement to achieve Bee Better Certified approval. The production standards that growers must meet were developed from years of scientific research in the field. (Photo: Xerces Society / Cameron Newell.)
The last question turned out to be the easiest one to answer—Bee Better Certified!
Finding answers to our other questions was a longer process. We reviewed hundreds of scientific articles to identify key habitat implementation and pesticide mitigation techniques that supported pollinators. We then convened a committee of some of the top pollinator scientists in the world to get feedback to ensure our approach was rigorous.
We also knew that if this approach was going to work we needed advice from farmers. Fortunately, Xerces has a long history of working with farmers, having collaborated with and provided technical assistance to thousands of growers producing a large variety of crops. We tapped into this expertise to ensure that the certification would be meaningful for bees and implementable
To round out our team of experts, we recruited food industry experts as advisors, and most importantly, an independent third-party certifier, Oregon Tilth. The participation of the latter ensured that our system would have independent verification, including farm-level inspections and auditing.
Hedgerows are a traditional part of agricultural landscapes. Rethinking them with shrubs and perennial plants that provide abundant flowers through the growing season is an effective way to create permanent habitat that transforms farms to the benefit of pollinators. (Photo: Xerces Society / Cameron Newell.)
As we developed the formal standards for Bee Better Certified, we vetted each draft with our science and farming advisors. Note that I use the word "standards". High quality certifications use standards—which are required—as opposed to guidelines or "best management practices", which can be good but are distinctly different from required standards. Finally, Oregon Tilth evaluated the standards to ensure that each one was verifiable during their on-site inspection process.
We launched Bee Better Certified three years ago this week with the following basic requirements:
– Maintain 5% of the land (at minimum) as habitat, which can be a mixture of permanent features, such as hedgerows, and temporary resources, including flowering cover crops.
– Flowers that bloom throughout the growing season.
– Nesting sites including plants with pithy-stems for cavity-nesting bees, and undisturbed soil for ground-nesting bees.
– A comprehensive pesticide reduction and management framework that includes IPM-style monitoring, the use of non-chemical practices, pesticide drift reduction, and pesticide buffer zones, and limitations and restrictions on the most high-risk pesticides.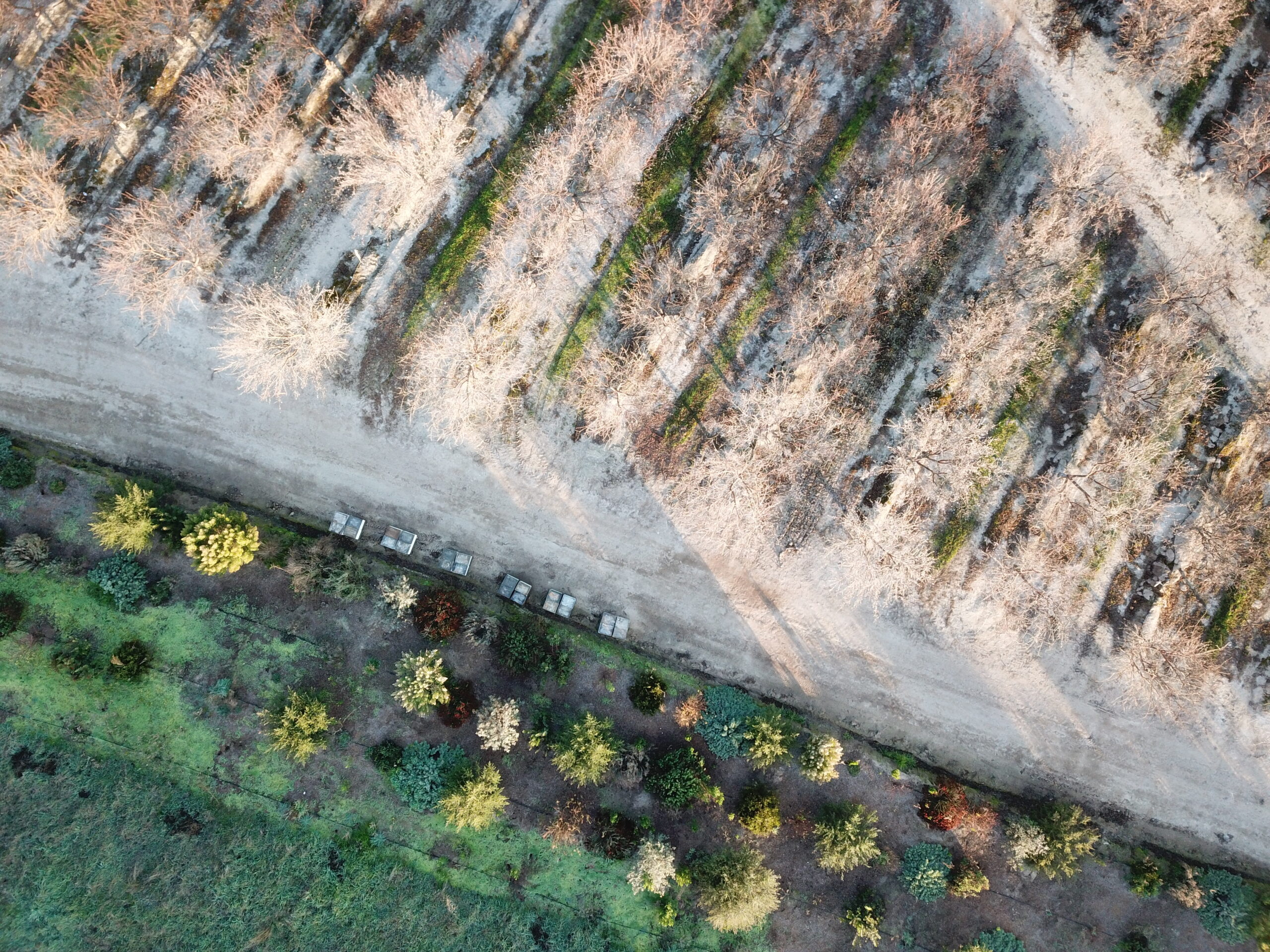 This bird's-eye view of a Bee Better Certified almond orchard in California's Central Valley shows a maturing hedgerow (at bottom) that was planted to provide habitat next to the rows of almond trees. (Photo: Xerces Society / Cameron Newell.)
Why third-party certification?
When we began developing Bee Better Certified, we had many discussions about the benefits of third-party certification. All major certifications follow a third-party accreditation process. This includes manufacturing—your water saving toilet is third-party certified as are most drinking-water filters, commercial foodservice equipment and a wide array of consumer products such as bottled water, medical equipment, and home appliances as well as food products through certifications like USDA Organic and Fair Trade. Even professionals such as emergency medical technicians and institutions such as schools are third-party certified to ensure they meet standards for excellence and are worthy of public trust.
Third-party certification means that an independent organization inspects every Bee Better Certified farm to ensure that the standards are met: the required habitat exists, appropriate plants are in bloom, nest sites are present, and pesticide reduction practices are being implemented. The result is a process that is transparent and provides a fair playing field for everyone who opts in. Without third-party certification, there is no guarantee of compliance, or that the standards are being interpreted and implemented consistently.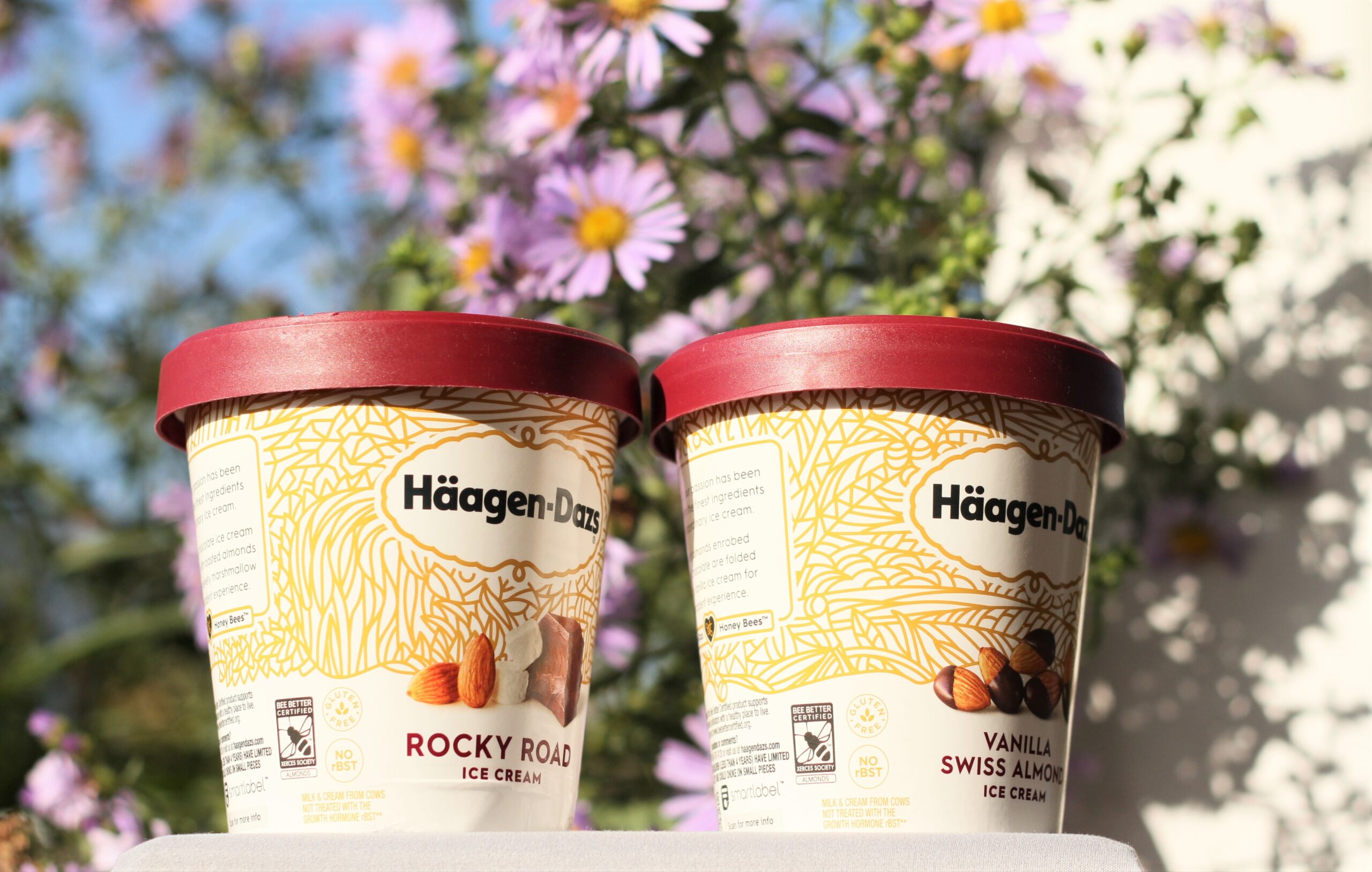 The prominent black-and-white Bee Better Certified seal identifies these tubs of ice cream as having been made with almonds from a certified grower. (Photo: Xerces Society / Cameron Newell.)
So why is Bee Better Certified the best pollinator certification program in the world?
– It is science based: Peer-reviewed research is backed up by top pollinator experts and farmers.
– It is third-party certified: It demonstrates independent validation and verification of our commitment to high-quality habitat on every farm.
– It protects the enrolled farmers: By providing a level playing field, everyone is evaluated equally through the same process.
– It guarantees retailers and consumers that a certified product actually is creating better places for bees.
With growing interest and adoption by farms in multiple countries, an expanding number of crops are now Bee Better Certified, and products such as wine, ice cream, and fresh produce can now be found displaying the Bee Better Certified seal in major retailers.
In short, if you purchase a product that has the Bee Better Certified seal, you can trust the certification and know that these products are leading to high-quality habitat for bees and other pollinators.
Further Reading
Read more about the Bee Better Certified program
Learn about the Bee Better Certified production standards
Find out how to apply to become Bee Better Certified